Benefits & Features
Benefits
Helps maintain cardiovascular health
Helps maintain healthy triglyceride levels
Helps maintain healthy cholesterol levels
Helps maintain gum health
Increases energy production at the cellular level
Potent antioxidant
Quick absorption into the bloodstream
Features
More than four years of safe and beneficial use by AIM Members
Unique formula contains 60 mg of coenzyme Q10, 100 mg of tocotrienols, and 240 mg of fish oil per softgel capsule
Japanese source of coenzyme Q10
Coenzyme Q10 derived from a plant source
No harsh solvents used in coenzyme Q10 extraction process
Softgel delivery system means quicker absorption
30-softgel capsules
AIM CellSparc 360

CellSparc 360 combines CoQ10, tocotrienols, and fish oil to provide you with the ultimate heart health product. These three ingredients work together to maintain a healthy lipid profile and give your heart that extra spark. It truly provides "synergy for the heart."
Cellular energy
To perform all the tasks that they must, cells create their own energy. The production of energy at the cellular level is commonly known as bioenergetics. Considering how active the human body is-remember that an average person uses 60 percent of his or her daily energy on base metabolism-we can see how important bioenergetics is.
Bioenergetics is dependent on food because cells manufacture their own energy by burning the substances found in foods. To do this, the foods we eat are broken down into smaller and smaller components, most of which are absorbed by the body. Some of these components, after a series of chemical reactions, are converted into a substance called adenosine triphosphate (ATP), which is the body's major form of stored energy.
All cellular functions require an adequate supply of ATP. Without ATP, the body would not have enough energy to perform its millions of everyday tasks. You can see then, that it is important that our bodies have the most efficient means possible to produce ATP. CoQ10 is a key in the formation of ATP.
Coenzyme Q10
CoQ10 acts as a shuttle, carrying important, energy-laden electrons and protons around the mitochondrion (the "energy generator" of the cell), to eventually be turned into ATP. Without this , ATP would not be created, and cells would not be able to create the energy needed for both everyday and special energy needs. According to a 1990 article in the American Journal of Cardiology, "Coenzyme Q10 is necessary for the mitochondria [components of cells] to perform their functions and is essential for human life."
What are the implications of bioenergetics and CoQ10 for health As stated, all of our cells must produce energy for us to stay alive, and CoQ10 is an essential part of this energy production. It is thus logical that a deficiency in CoQ10 in any of the body's cells would affect body functions.
Many studies have shown that people suffering from different forms of heart disease are deficient in CoQ10. This makes sense, as congestive heart failure results from the inability of the heart to generate the energy and strength necessary to maintain circulation.
Other studies indicate that CoQ10 supplementation may decrease the amount of medication used by heart disease patients, improve health as measured by the New York Heart Association functional scale, improve overall quality of life for heart patients, and act to maintain healthy blood pressure levels. Finally, other avenues of research have explored CoQ10 and the mitochondrion; CoQ10, athletes, and energy; CoQ10 and gum health; CoQ10 and the immune system; and most recently, CoQ10 and breast cancer.
Tocotrienols
Tocotrienols are a type of vitamin E. They are found in cereal seeds and in palm, rice bran, and barley oils. One of the contradictions that led to tocotrienol research is that palm oil, although it has a 50 percent saturated and 50 percent unsaturated fatty acid content, does not raise serum cholesterol, and even lowers it. Research shows that tocotrienols are responsible for this contradiction.
Like vitamin E, tocotrienols are proving to have health benefits. There have been many different studies indicating that tocotrienols reduce serum cholesterol, and recent research by Packer and Associates (Lester Packer is a well-known nutritional biochemist) indicates that tocotrienols have 40 to 60 times more antioxidant ability than alpha-tocopherol (vitamin E).
Fish oil
The diluent-the substance that carries the CoQ10 and tocotrienols-in

CellSparc 360 is fish oil. This is an important point, as CoQ10 is fat-soluble, which means that it requires fat to be absorbed by the digestive tract. Dr. Karl Folkers, the doctor responsible for much of the research on CoQ10, has recommended that CoQ10 be dissolved in oil. The 240 mg of fish oil used in

CellSparc 360 is derived from cold-water fish.
Fish oil has health benefits. Epidemiological studies have shown that in populations where large amounts of fish are consumed, there is little evidence of heart disease. Fish oil has also been studied extensively for its positive effect on the cardiovascular system, and it is acknowledged that fish oil helps reduce triglyceride levels-a type of fat. High triglyceride levels are a factor in heart disease.

CellSparc 360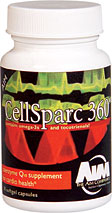 You will find that

CellSparc 360 is superior to other CoQ10 products on the market. Only AIM Members have a product that combines 60 mg of CoQ10 with 100 mg of tocotrienols and 240 mg of fish oil in a convenient softgel capsule.

CellSparc 360 contains no artificial flavors or fillers, such as yeast, egg, or milk derivatives. The softgel delivery system also gives you a superior delivery system; greater stability, purity, and consistency; and improved bioavailability.
How to use

CellSparc 360
Take 1 to 2 softgel capsules per day. Although the inclusion of the fish oil diluent helps improve absorption of the CoQ10, it is still recommended that you take the capsules with meals. Some people feel immediate benefits; others notice results after 6 to 8 weeks.

Shelf life is 3 years, unopened. Close tightly after opening and store in a cool, dry, dark place

(70-75 oF; 20.1-23.8 oC). Do not refrigerate.

If pregnant or nursing, consult a health practitioner.

Diabetics should consult a health practitioner.
Q & A
Why should I take

CellSparc 360?
Studies have found that as we age our bodies cannot produce CoQ10 as efficiently and its supply diminishes. It is important to keep adequate levels of CoQ10 in our bodies. However, finding healthy food sources of CoQ10 can be difficult. The best sources of CoQ10 are animal muscle tissues, but many people prefer not to eat this type of food. AIM CellSparc 360 is produced from plant sources. Using it provides a way of maintaining the body's level of CoQ10 without compromising other dietary considerations.
Can I take more than the suggested amount?
AIM CellSparc 360 is nontoxic, so larger amounts are acceptable, depending on your assessment of your nutritional needs.
Why must I store

CellSparc 360 in a cool, dry, dark place?
Because the CoQ10 used in

CellSparc 360 is so pure, it has a relatively low melting temperature. This will not hurt the efficacy of the product. However, heat, humidity, and sunlight could cause the softgels to stick together.
Softgel capsules and absorption
One of the reasons for using a softgel delivery system is that it can increase the absorption of the product. A double-blind, controlled study shows that an oil-diluent, softgel CoQ10 formulation has an absorption rate almost three times higher than that of a dry, capsule CoQ10 formula.
An oil-diluent, softgel formulation resulted in a CoQ10 blood level of 265 percent over the base level, while a dry, capsule form of CoQ10 resulted in a blood level of 180 percent over the base level.
The dry, capsule CoQ10 was absorbed at 3.4 micrograms per minute, while the oil-diluent, softgel CoQ10 was absorbed at 9.3 micrograms per minute-a 273 percent difference. This greater bioavailability appears to affect energy. Results show that 83 percent of those who used the oil-diluent, softgel form experienced more energy, compared to 30 percent of those who used the dry, capsule form.
Coenzyme Q10 Information
Coenzyme Q10 and Energy
Coenzyme Q10 - Its History
Coenzyme Q10 and Human Nutrition
Ask About
AIM's Health Professional Support Series-CellSparc 360

CellSparc 360: Spark Your Heart audio (W.V. Judy, Scott Forsberg, Tom Watkins)

John A. McDougall, M.D., healthy heart audio

CellSparc 360: Spark Your Heart video
Cardio Health
The cardiovascular system consists of the heart and blood vessels. Through this system, blood circulates throughout the body. All body organs and tissues need a supply of blood to receive nutrition and to remove waste products.
A major factor in cardiovascular disease is lifestyle. A poor diet, lack of exercise, and smoking all contribute to making cardiovascular disease the biggest killer in North America. Changing your lifestyle, and using supplements such as coenzyme Q10 (CoQ10), can help you maintain your cardio health.

CellSparc 360 is a Cardio Health product. Complimentary Cardio Health products consists of

Bear Paw Garlic ,

Proancynol 2000,

BarleyLife

Herbal Fiberblend. Use these products to help yourself maintain cardiovascular health.
This bulletin is for information only. It has not been evaluated by the U.S. Food and Drug Administration. This product is not intended to diagnose, treat, cure, or prevent any disease.